Tweed Valley Cruises offers an amazing assortment of river tours and cruises, outdoor adventures and sightseeing and foodie tours in Australia's Green Coast. Operating on the Tweed Coast and in the beautiful Tweed Valley they specialise in providing cruises on the Tweed River, day tours and overnight tours around the iconic Mount Warning, the World Heritage listed Border Ranges and the picturesque Tweed Valley. Their clients can choose from river cruises, guided kayaking, stand up paddle boarding, and sightseeing tours. They offer cruises for small groups and larger groups up to 50 people per cruise, sightseeing bus tours for up to 42 people, and also offer a diverse collection of tailored small group sightseeing experiences from four to 10 people per tour.
Their fantastic range of outdoor adventures and tours, will take you to extraordinary places to discover fabulous scenery, which many visitors to the region never get to witness. Located in Kingscliff (Booking Office) and Tumbulgum (Activities Base), only 20 minutes from the Gold Coast Airport, Tweed Valley Cruises is your local sightseeing and adventure tour specialist in the Tweed Valley and Australia's Green Coast.
WHY ISN'T THE GOOD ACCESS BADGE TURNED ON?
Some listings are here because we think they're pretty cool and you should know about them! And some, we just haven't quite got enough info to make the 'Good Access' call yet.. so to answer the question, a business could be listed on our site if:
A. The business indicates they have some accessible facilities, but we haven't quite gotten around to chatting through the details, stay tuned! If you've been here, leave a review and let us know about your experience!
B. We have spoken to their team.. the facilities aren't quite what we'd call accessible BUT we've provided you with 'good to know' tips in case you're keen to give it a go anyway!
Tours AVAILABLE
Rooms:
Seafood Rainforest Cruise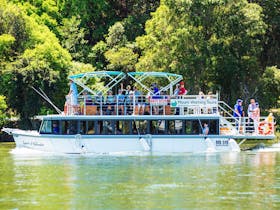 Experience the natural beauty of the Tweed Valley with Tweed Valley Cruises, on the Spirit of Wollumbin, a traditional Huon Pine River ferry. You will glide slowly upstream on the majestic Tweed River and/or the scenic Rous River whilst taking in the scenic river and mountain views. Beautiful Wollumbin Mount Warning, the heart of an ancient volcano, is best seen from the vantage point of the Tweed Valley waterways. Whether you're local or visiting, there is no better way to experience the Tweed than on a Tweed River cruise with Tweed Valley Cruises. Enjoy a one hour lunch or dinner, with a local seafood platter at a riverside cafe or tavern after the tour. (Seafood meal includes seafood chowder soup served with a fresh roll, 1/2 bug, one oyster, two prawns, smoked salmon, tempura whiting and calamari, as well as delicious sides of gourmet potato salad and garden salad). Departure times: 10.30 every Wednesday, Saturday and Sunday (other days on demand) and as scheduled via website booking engine. Other times for group bookings on request.
Location
ADDRESS:
108 Riverside Drive , Tumbulgum The Tweed New South Wales Australia 2490