Embark on a fascinating journey of discovery over and through the world's oldest continually surviving tropical rainforest with Skyrail Rainforest Cableway.
Skyrail is a unique, world-class experience that provides a truly unique perspective of Australia's World Heritage listed tropical rainforest.
Spanning 7.5 kilometres in the Barron Gorge National Park, Skyrail's comfortable six person gondola cabins glide just metres above the canopy, providing spectacular views of the rainforest, Cairns, the Coral Sea and lush Cairns Highlands.
The Red Peak and Barron Falls Rainforest Stations also allow guests to descend through the canopy and explore the forest floor below.
At Red Peak Rainforest Station, complimentary ranger-guided boardwalk tours, interpretive signage and scenic lookouts unlock the secrets of this ancient tropical landscape that has evolved over hundreds of millions of years.
Discover more at Barron Falls Rainforest Station via the CSIRO Rainforest Interpretation Centre; marvel at the rugged beauty of the Barron Gorge and majestic Barron Falls; and learn about the area's pioneering past at the engaging historical display.
Accessible to people of all ages and abilities, Skyrail is the must do rainforest experience in Tropical North Queensland and is located 15 minutes from Cairns city centre and 50 minutes from Port Douglas.
GOOD TO KNOW
The iconic Skyrail experience is a must do Cairns attraction that provides a truly unique perspective – immersing guests in the sights, sounds, smells and tranquility of one of the most botanically fascinating areas on earth.
PARTICIPATE IN…
Skyrail gondola cabins can accommodate most standard type wheelchairs. However, due to size restrictions and loading requirements, some types of wheelchairs can not be carried on the cableway. In this case Skyrail can provide complimentary use of a wheelchair (subject to availability) during a Skyrail experience and you may need assistance to transfer . Wheelchairs are restricted on the coach transfer service. Please advise reservations staff at the time of booking to confirm your requirements.
YOU WILL FIND…
Optional use of ramp for loading & unloading
Ramp access to all boardwalks at Red Peak and Barron Falls stations
Access to the CSIRO Interpretation Centre
Access to restroom facilities at all stations
Wheelchair Guidelines 
Width cannot exceed 630mm
Length cannot exceed 950mm
Wheelchairs must be capable of being tilted backwards
The combined weight of the wheelchair occupant and the wheelchair must be of a manageable weight to allow cableway operators to load the wheelchair.
ACTIVITIES YOU CAN ENGAGE IN
Tours AVAILABLE
Rooms:
Explore the Ancient Rainforest with Skyrail Rainforest Cableway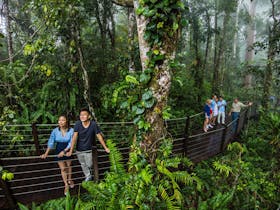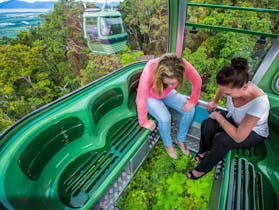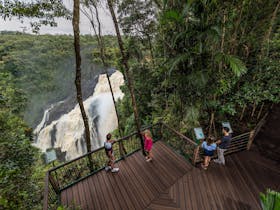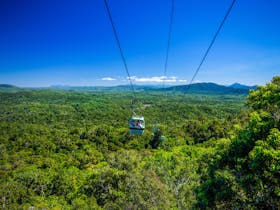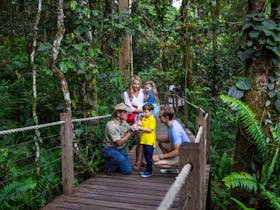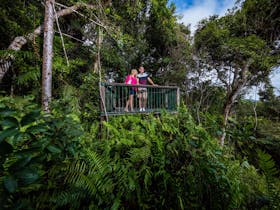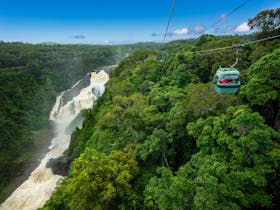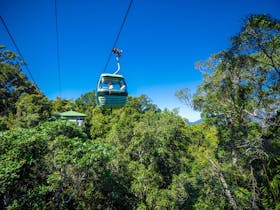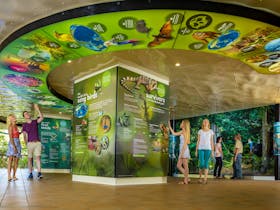 Embark on a fascinating journey of discovery over and deep into Queensland's World Heritage Listed Rainforest. Enhance your rainforest experience by downloading the Skyrail Interpretive App and Audio Guide, placing the story of the rainforest directly in your hands. Explore the Rainforest Discovery Zone at Red Peak and discover the amazing sweeping panoramic views from The Edge Lookout at Barron Falls. Learn about plants and animals that existed long before dinosaurs roamed the earth, whose descendants can still be seen in the rainforest today. Home to some of the world's first kangaroos, flowering plants and ancient song birds, this fascinating living museum is like a window back in time. Immerse yourself in the sights, sounds, smells and tranquillity of one of the world's most botanically fascinating areas whose heritage has remained relatively unchanged for millions of years. Exploring the ancient rainforest between Smithfield and Kuranda, a one-way Skyrail experience takes approximately 90 minutes. For a return (round-trip) experience, allow 2.5 hours. Skyrail's Smithfield Terminal is located approximately 15 minutes drive from Cairns city and 50 minutes from Port Douglas. Both locations are conveniently serviced by regular coach transfers. Self-drive guests can access free parking available for cars and recreational vehicles.
Facilities found here
Carpark
Family Friendly
Non Smoking
Public Toilet
Location
ADDRESS:
6 Skyrail Drive , Smithfield Cairns Area Queensland Australia 4878