The Proud Mary is a purpose built riverboat, designed to provide a restful and relaxing haven from which you can discover the beauty and fascination of the fourth longest river system in the world. Our 2 and 5 night cruises operate 365 days a year and include all meals, river-view en-suite accommodation and daily nature-based shore excursions.
There are just 18 cabins on board the Proud Mary which ensures you receive the best of personal service yet have the opportunity to meet and make friends with fellow passengers.
immerse yourself in the history and beauty of this unique part of Australia, all cruises are fully inclusive of all meals prepared by resident chef, ensuite cabins, daily shore excursions, live entertainment and much, much more.
WHY ISN'T THE GOOD ACCESS BADGE TURNED ON?
Some listings are here because we think they're pretty cool and you should know about them! And some, we just haven't quite got enough info to make the 'Good Access' call yet.. so to answer the question, a business could be listed on our site if:
A. The business indicates they have some accessible facilities, but we haven't quite gotten around to chatting through the details, stay tuned! If you've been here, leave a review and let us know about your experience!
B. We have spoken to their team.. the facilities aren't quite what we'd call accessible BUT we've provided you with 'good to know' tips in case you're keen to give it a go anyway!
Tours AVAILABLE
Rooms:
5 Night Murray River Indulgence Cruise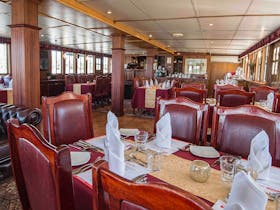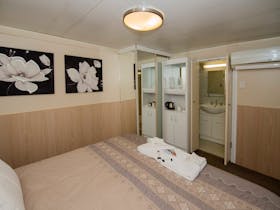 Your 5 Night Cruise provides the chance to experience Australia's greatest river in depth. You'll be pampered with three gorgeous meals each day prepared by our team of skilled chefs. All the while you can bask in the magnificent scenery as you leisurely journey up and down this fascinating and historic waterway that is the River Murray. And there's plenty to see and do along the way. Our resident expert ecologist will help you explore the amazing River Murray on some of our nature-based excursions. The cruise includes daily shore excursions, live entertainment and Riverview ensuite accomodation in every cabin. Abundant wildlife will be seen throughout your entire Proud Mary cruise. River gums and willows line the banks of this famous river and provide an ideal haven for birds and wildlife. Take a closer look with the aid of binoculars, not only by day but also by night, as the Proud Mary's powerful floodlights illuminate the graceful willows and dark waters as you cruise.
Location