Phillip Island Driver and Tours is a locally-based company, focusing on small group, personalised tours and transport so you do not have to travel with the masses.
Offering customisable itineraries to allow travellers to add their own flavour and avoid the big coach tours, Phillip Island Designated Driver can provide simple trips to the penguin parade to full-day sightseeing tours. These tours allow you make the most of your visit to Phillip Island.
The tours are guided by a Phillip Island local, so you learn about the area from someone who lives there. Phillip Island Designated Driver offer sightseeing, nature and wildlife and food and wine tours, with a focus on the best local product, attractions and landmarks.
Tours focus on spectacular coastal scenery, native wildlife, the great outdoors and fantastic food and wine. The smaller vehicle provides access to remote parts of the island. It also means every seat is a window seat. Great for viewing the action and taking photos of your journey.
All tours pick up from accommodation on Phillip Island and connect with local bus services from Melbourne. So once you're on Phillip Island you can sit back and relax with a local.
WHY ISN'T THE GOOD ACCESS BADGE TURNED ON?
Some listings are here because we think they're pretty cool and you should know about them! And some, we just haven't quite got enough info to make the 'Good Access' call yet.. so to answer the question, a business could be listed on our site if:
A. The business indicates they have some accessible facilities, but we haven't quite gotten around to chatting through the details, stay tuned! If you've been here, leave a review and let us know about your experience!
B. We have spoken to their team.. the facilities aren't quite what we'd call accessible BUT we've provided you with 'good to know' tips in case you're keen to give it a go anyway!
Tours AVAILABLE
Rooms:
Penguins and Beyond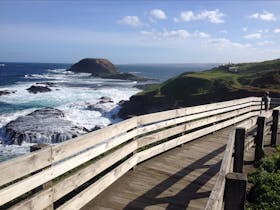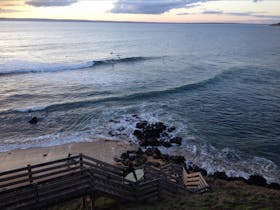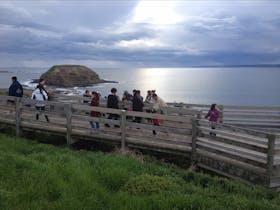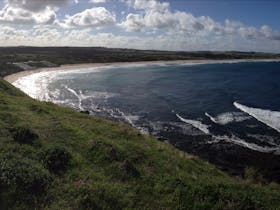 This tour is for those looking to enhance their penguin parade experience by including a personal guided tour of the 'Penguin Peninsula'. It includes transport to and from the nightly penguin parade, plus a one hour guided tour of the area beforehand. You will discover and hear from a local about this spectacular coastline, its history and the animals which call it home. This tour compliments your penguin parade experience by including a visit to the Cat Bay surf break, The Nobbies boardwalk and stunning scenic clifftop drive through penguin and wallaby habitat. You also get views along the entire south coast of the island. All this before drop-off at the Penguin Parade and return home afterwards. Transfers back to Melbourne possible at extra cost. Contact for details.
Facilities found here
Family Friendly
Public Toilet
Phillip Island Three Parks Connector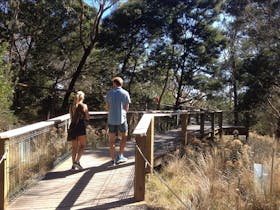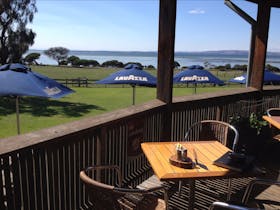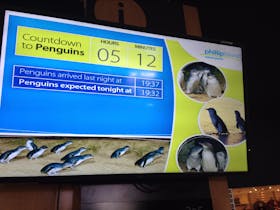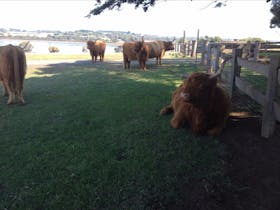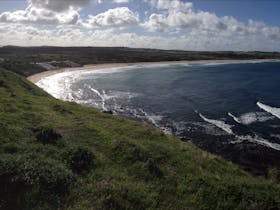 This tour provides stress free transport for those who have purchased either a three or four Parks Pass on Phillip Island. The three Parks Pass is a combined entry ticket to Churchill Island Heritage Farm, Koala Conservation Centre and the Penguin Parade. With the four Park Pass entry to the Antarctic Journey is added. This tour allows guests to hop-on, hop-off at each attraction and is scheduled to make sure you arrive at optimal times to see wildlife and farming demonstrations. Depending on the time of year some additional attractions are included such as local beaches and wildlife areas. This tour also offers a 10 per cent discount on the purchase of the three or four Parks Pass.
Facilities found here
Family Friendly
Non Smoking
Public Toilet
Bass Valley Wine Tour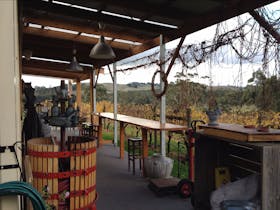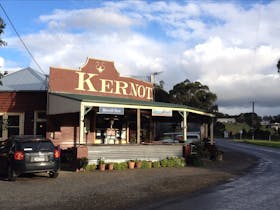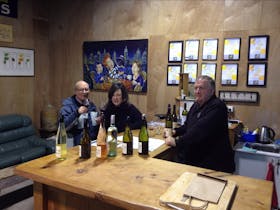 This tour takes you into the hills of Bass Valley for an afternoon of exploring and tasting local food and wine. The tour starts with a visit to local cheese producer Bassine Specialty Cheeses for a cheese tasting. This is followed by guided wine tastings at two of South Gippsland's noted wineries , with views over the beautiful Bass River Valley. We then stop for lunch at the quaint and character-filled Kernot Store. Here you will enjoy a selection of home cooked meals and/or pizzas, matched with a glass of local wine or beer. The store also has a range local produce available for purchase. The tour includes pick up from your accommodation, all tasting fees and lunch with a glass of local wine or beer.
Location
ADDRESS:
21 Cypress Court , Cowes Phillip Island Victoria Australia 3922