Adventure camping safaris for the disability market.
We offer a range of styles from "swags" up to luxury safari tents and wheelchair accessible tents.
Fully catered and guided tours from Alice Springs (Other start and finish locations available)
Groups can range from small family charter in 4X4 up to our luxury 55 seat coach
Self drive 4X4 vehicle hire
We also have a fully equipped workshop, commercial laundry and catering facility and offer services to commercial operators.
Tours AVAILABLE
Rooms:
Half Day Sunrise Tour
If your limited on time in Central Australia, then this half day Uluru tour is perfect. Picking up an hour before Sunrise from your Hotel, we head down into Uluru Kata Tjuta National Park where you will witness one of the most stunning sunrises. From sunrise you then have the opportunity to explore Uluru on a 10km base walk (shorter walks are available). Your guide will then take you on a short informative guided walk around a section of the base walk. From Uluru you have the opportunity to wonder the Cultural Centre. This is where you will be able to absorb the ancient culture of the Anangnu people.
Uluru Half Day Sunset Tour
Travelling into the World Heritage listed Uluru and Kata Tjuta National Park you will enjoy stunning views of Uluru to your left and Kata Tjuta out to the right in the distance. First stop for the afternoon is Kata Tjuta where we take a guided walk through the many domes that make this one of the most spectacular sites in the world. From Kata Tjuta its back to Uluru and to take our position at the sunset viewing area. Here you will experience one of the most iconic sunses in the world, whilst enjoying a glass of sparkling wine and finger food.
Uluru and Kings Canyon Camping Experience
Enjoy a 3-day camping adventure in the beautiful outback, our first stop is an outback roadhouse for a quick breakfast (at your own expense), back on the road and a short stop for viewing of Mount Connor and the salt lakes before arriving at Yulara. Experience the world's largest monolith Uluru and the wondrous Kata Tjuta. Travel to Kings Canyon for a guided 6km Canyon Rim Walk in one of the most spectacular areas of the outback.
5 Day 4×4 Red Centre Adventure
The original and still the best five day experience in Central Australia! Exclusive to Outback Tour Services, four nights and five days of pure outback adventure! A relaxed style of 4WD travelling with small groups of up to only 16 people. Includes two nights bush camping under the stars and two nights in our comfortable permanent camps.
"Rock to Reef" Ultimate 4×4 Overland Adventure
Experience the wonder of the iconic Uluru on this 7 day tour across the spectacular land of Australia. Discover the Lost City and the Garden of Eden on a 6km hike in Kings Canyon. Visit the cliffs of coloured sandstone, vine forest and deep permanent waterholes along Porcupine Creek contrast strikingly with the savanna plains surrounding Porcupine Gorge.
Half Day Ultimate Adventure
Experience some 4×4 fun in the Alice Springs region. This area has some of the best dirt tracks and spectacular scenery you will find anywhere! Whether we choose a track in the Western or Eastern MacDonnell Ranges, we guarantee you will have a wonderful "Outback Off-road experience". Finish the day's exploration with watching a Central Australian sunset whilst sipping on chilled sparkling wine and nibbles. A BBQ or
 camp oven dinner can also 
be arranged.
Full Day Ultimate 4x4 Adventures
Do you have a day spare in Alice Springs? Why not let OTS take you on a true "Outback 4×4 Adventure". Start your day driving along the spectacular Eastern MacDonnell Ranges. Visit the historical and now abandoned Arltunga settlement. Take the opportunity to truly appreciate the bravery and hardships endured by the early settlers in this region in their pursuit of gold and precious gems. We then head into some truly spectacular remote country where only 'High Clearance' 4×4 vehicles dare enter. Travel through numerous creek beds, mostly dry, however at times can turn into water crossings. We head east to Ruby Gap for some 4×4 action. Drive a few kilometres up ancient dry river beds… experience the fun of 4×4 driving in sand where getting stuck and getting back out again is all part of the fun! Enjoy a BBQ or camp oven lunch with Aussie damper bread all cooked on a fire in the river bed. Have a cold beer or a wine whilst soaking in the great feeling of being in a truly remote area of the world.
Accessible Tours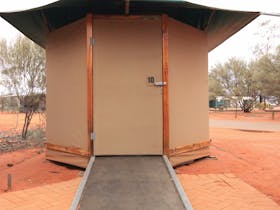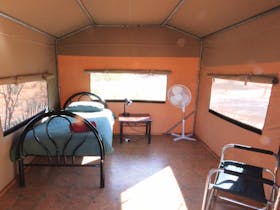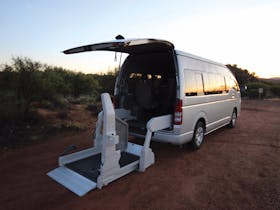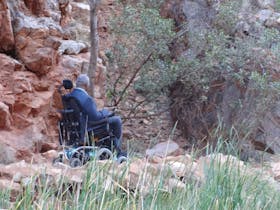 At Outback Tour Services we believe the spectacular Australian Outback should be open and accessible to everyone. It is our great pleasure to offer "Remote Outback Camping safaris" that can cater for the disability market. In short, we concentrate on your ability… not your disability! We offer fully tailored charter tours for up to nine people at a time. Our modern, purpose-built vehicle can take one wheelchair passenger who remains in their wheelchair as well as another who can transfer to a seat. We offer a variety of camping options from bush camping to "Safari in Style" camping with permanent tents. As we tour in remote areas, we also have a purpose-built "Off-road Wheelchair" to enable you to track through riverbeds and rough terrain… as well as go for a swim in one of the fantastic waterholes in the Western Macdonald ranges. Our tours are fully catered and include: Fully qualified and accredited tour guide Modern comfortable airconditioned vehicle Accommodation – from swags to permanent tents with ramp, hotel accommodation also available if preferred Off-road wheel chair Catering for duration of tour Pricing is based and quoted on individual charters.
Location
ADDRESS:
12 Power Street , Braitling Alice Springs Area Northern Territory Australia 0870