Bike Hire and Cycle Tours are available from Outback Cycling (6/63 Todd Mall). The township of Alice Springs is relatively flat with great paved paths, making cycling the perfect way to explore the outback town. Hire bikes available include town bikes, several styles of mountain bikes and electric bikes.
We can cater mountain bike tours to suit all skill levels: novice, intermediate, advanced and elite. See the beautiful Australian outback on 2 wheels. Allow three hours for the tour (including bike fitting, briefing, water breaks and morning tea at the Telegraph Station).
Prefer to stay in town? Our Velo Tours will guide you to the original settlement of Alice Springs: The Telegraph Station. After a guided tour of the historical precinct and morning tea, the tour continues to one of the towns most beautiful Aboriginal art galleries.
Need more adrenaline? We also do overnight camping mountain bike tours!
WHY ISN'T THE GOOD ACCESS BADGE TURNED ON?
Some listings are here because we think they're pretty cool and you should know about them! And some, we just haven't quite got enough info to make the 'Good Access' call yet.. so to answer the question, a business could be listed on our site if:
A. The business indicates they have some accessible facilities, but we haven't quite gotten around to chatting through the details, stay tuned! If you've been here, leave a review and let us know about your experience!
B. We have spoken to their team.. the facilities aren't quite what we'd call accessible BUT we've provided you with 'good to know' tips in case you're keen to give it a go anyway!
Hires AVAILABLE
Rooms:
Outback Cycling Alice Springs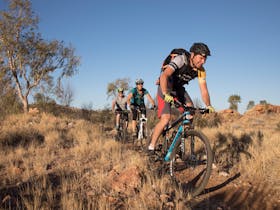 We offer Townie Cruisers for half and full day hire to cruise the shared paths of Alice Springs. We hire Mountain Bikes for off road adventures, or longer rides. We hire E-bikes. We also have toddler seats, tagalongs and kids trailers to cater for the whole family!
Location
ADDRESS:
63 Todd Street , Alice Springs Alice Springs Area Northern Territory Australia 0870