Nyungar Tours is led by Kerry-Ann Winmar, a Whadjuk woman and Traditional Nyungar Owner from the Perth region.
Nyungar Tours provides an opportunity to share authentic Aboriginal cultural tours, experiences, products and services in and around Perth, Western Australia with people from all over the world.
Services include Tours and Experiences, Aboriginal Displays and Products, Cultural Awareness, Presentations, Nyungar Language Translations and Consultancy Services.
Nyungar Tours' signature tour is the 'South Perth Walking Cultural Tour', a 45-minute cultural walking tour along the beautiful South Perth foreshore.
WHY ISN'T THE GOOD ACCESS BADGE TURNED ON?
Some listings are here because we think they're pretty cool and you should know about them! And some, we just haven't quite got enough info to make the 'Good Access' call yet.. so to answer the question, a business could be listed on our site if:
A. The business indicates they have some accessible facilities, but we haven't quite gotten around to chatting through the details, stay tuned! If you've been here, leave a review and let us know about your experience!
B. We have spoken to their team.. the facilities aren't quite what we'd call accessible BUT we've provided you with 'good to know' tips in case you're keen to give it a go anyway!
ACTIVITIES YOU CAN ENGAGE IN
Tours AVAILABLE
Rooms:
South Perth Walking Cultural Tour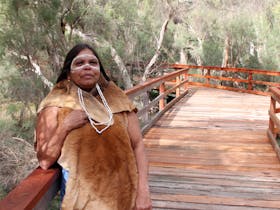 Be welcomed to your guided cultural tour by a Traditional Owner with a strong family history of ancient customs and traditions in the Perth area. Walk along the beautiful South Perth Foreshore, overlooking the Perth City skyline and scenic Swan River (or Derbal Yerrigan in Nyungar language) as they share traditional stories of Whadjuk Country and the history of the Nyungar People in Perth. Explore the tranquil oasis of the Scented Gardens. Learn about plants used for bush foods and medicinal purposes. Touch and feel Aboriginal artefacts. Learn about Aboriginal culture, language and stories.
Location