Nitmiluk Gorge is one of the most picturesque places to canoe in Australia. A canoe trip is a great way to get away from the crowds and experience the splendour of Nitmiluk Gorge (Katherine Gorge). Admire the stunning views, get up close to the wildlife, explore the rocky escarpment riverbanks or cool off at a sandy beach.
Half day, full day and overnight hire options are available.
Canoeing in this environment can be challenging, but rewarding, for those who want to get in touch with nature. Canoes are available when the weather and river level permits. During the months of December to March, canoe hire does not operate due to safety reasons.
WHY ISN'T THE GOOD ACCESS BADGE TURNED ON?
Some listings are here because we think they're pretty cool and you should know about them! And some, we just haven't quite got enough info to make the 'Good Access' call yet.. so to answer the question, a business could be listed on our site if:
A. The business indicates they have some accessible facilities, but we haven't quite gotten around to chatting through the details, stay tuned! If you've been here, leave a review and let us know about your experience!
B. We have spoken to their team.. the facilities aren't quite what we'd call accessible BUT we've provided you with 'good to know' tips in case you're keen to give it a go anyway!
Hires AVAILABLE
Rooms:
Barrak Barrak 2 Day Aventure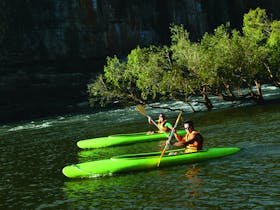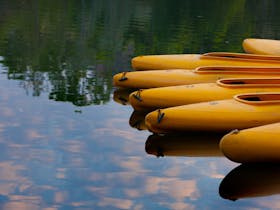 Journey further than any Nitmiluk day tour on this 2 day ultimate self guided canoe adventure through the Nitmiluk Gorge system. Camp out under a Jawoyn night sky and embrace the serenity of the Gorge with only limited numbers allowed on the water for this tour Canoeists need to acquire a permit from Parks &; Wildlife. Permits are limited and pre-booking is recommended. $60.00 cash deposit, per canoe is required. This tour is subject to river levels and conditions. Bookings essential, spaces are limited.
Kuluyampi Explorer - Journey Beyond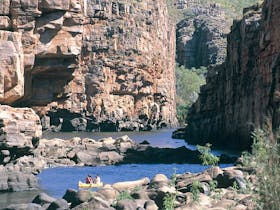 On this full day canoe hire, explorers are free to explore the walking tracks. check out the vortex holes drilled at the top of the 3rd gorge or relax on beaches of Smitt Rock between the fourth and fifth Gorges
Malappar Traveller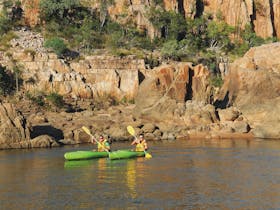 Canoe the iconic second Gorge and fully immerse yourself in the beauty of Jawoyn Country. Take time to wade in the shallow pools between the first and second gorges or venture further up to Golden Falls to view ancient Jawoyn rock art. Hire duration times are 8am to 12.30 or 12.30pm to 5.00pm.
Location
ADDRESS:
Nitmiluk National Park (Katherine Gorge) Gorge Road, Katherine Katherine Area Northern Territory Australia 0850