Aboriginal owned and operated tour company in the Northern Sydney region just 45 minutes from the Sydney CBD offering 3.5 hour cultural tours in Ku-ring-gai Chase National Park.
Traditional custodians the Garigal people of Guringai nation. There are a range of tours available catering for all types of visitors including Australian and international visitors and school groups. Optional barbecue lunch with kangaroo, emu, fish and fresh made damper or restaurant lunch with a choice of set meals.
WHY ISN'T THE GOOD ACCESS BADGE TURNED ON?
Some listings are here because we think they're pretty cool and you should know about them! And some, we just haven't quite got enough info to make the 'Good Access' call yet.. so to answer the question, a business could be listed on our site if:
A. The business indicates they have some accessible facilities, but we haven't quite gotten around to chatting through the details, stay tuned! If you've been here, leave a review and let us know about your experience!
B. We have spoken to their team.. the facilities aren't quite what we'd call accessible BUT we've provided you with 'good to know' tips in case you're keen to give it a go anyway!
Tours AVAILABLE
Rooms:
Basin Track Tour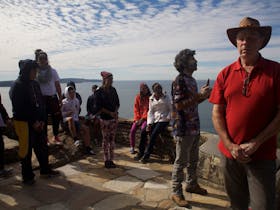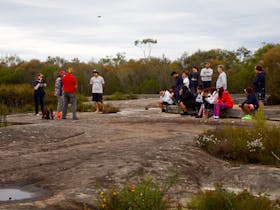 Immerse yourself in an exclusive Aboriginal cultural journey as you walk the land with Traditional Custodians and caretakers. On the Basin Track Tour, guests are taken on a journey of discovery in World Heritage listed Ku-ring-gai Chase National Park where they learn how Aboriginal ancestors used the site as a classroom, cared for the land and how it cared for them. Visitors are taken to a cave with stencil art and sandstone engravings site where the guides show how the art is done, how the carvings are made and how to read the site.
Facilities found here
Carpark
Family Friendly
Public Toilet
Location
ADDRESS:
Basin Track , Ku-ring-gai Chase Sydney North New South Wales Australia 2085