It's a wonderful thing, to be able to give someone the experience of a lifetime. At Global Ballooning Australia, they have shared a sunrise with over 90,000 people over 26 years. They are proud of their safety record, and care deeply about their guests' experience, but for them, it's about the people they meet along the way and the pristine natural playground they call their office.
Operating 364 days a year, they rise before the sun almost every day over Melbourne city and the Yarra Valley because they believe there is something magical about experiencing the world from the sky. It starts with an alarm; that familiar shrill that drags you from bed and dares you to meet the dawn. Your adventure starts before the city stirs. Birdsong begins as balloons inflate. As the earth falls away, you rise with the sun. There is no need to travel far, and no better way to see the world's most liveable city – Melbourne. For an hour, it's just you and the sky. Some prefer the scenic route to the Yarra Valley, traversing roads through gnarly vineyards and misty farms until a landscape worthy of silence appears.
GOOD TO KNOW
Australia's first Easy Access Basket (EAB) was launched by Global Ballooning Australia in 2012.
The entire experience lasts 4-5 hours in total and is usually completed between 10-11am. The 'Melbourne Balloon Flight' package is accessible upon request only and based on availability.
PARTICIPATE IN…
Flights in the Easy Access Basket (EAB) are subject to availability and flown over Melbourne. You can request a flight over the Yarra Valley (depending on passenger numbers they may be able to fly you)
The basket can hold a maximum of 10 passengers, with the ability to have 2 passengers sitting down (it is a cosy fit if there are 2 passengers sitting)
Individuals requiring use of the EAB are required to share the experience with a carer/helper/friend/family member on the morning, along with other passengers flying in the same basket
YOU WILL FIND…
If you are in a wheelchair, you will need to transfer from your wheelchair into the basket which has a seat inside it. Unfortunately a wheelchair can not be taken onboard.
The EAB has particular operating parameters, and staff may cancel your flight at late notice because of this. Hot air ballooning relies on suitable weather conditions in order to proceed safely. If this is the case, they will reschedule your flight for a suitable time
No more than two passengers requiring use of the EAB will fly on a particular day
At this stage, Global Ballooning Australia Pty Ltd does not offer Accredited and Certified transport to and from launch and landing sites. You will be required to arrange your own transportation from the meeting place to the launch site and whilst you're on your flight your organised transportation will follow our ground crew. Then once landed, your transportation can drive you back to the meeting point for your champagne breakfast or back to your hotel/house. This will need to be arranged for about 3.5hrs as a minimum. The following, 1300PickUp Chauffeur Service maxi taxi service is suggested and they quote approximately $60+ per hour with a minimum of 3.5hrs. Make sure to advise them you have booked through Global Ballooning Australia for your hot air balloon flight.
Tours AVAILABLE
Rooms:
Ballooning Over Melbourne With Champagne Breakfast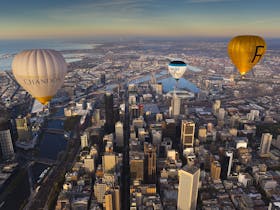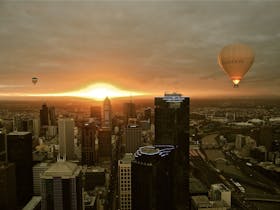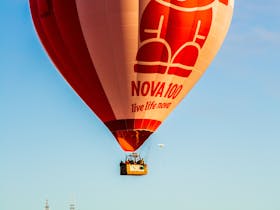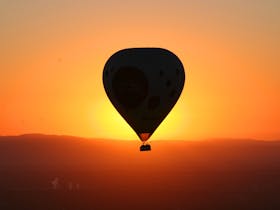 In the early morning light you will drift tranquilly for approximately one hour over the array of parks and gardens that make Melbourne the world's most liveable city. With Global Ballooning, you will view some of the famous buildings like the Eureka Tower, and iconic sporting venues like the Melbourne Cricket Ground and Albert Park Racetrack, as the sun rises over the city skyline. You will then enjoy a sumptuous champagne breakfast celebration at the Pullman on the Park to cap off the morning's adventure. Transfers from all city hotels are also available.
Ballooning Over Melbourne (Flight Only)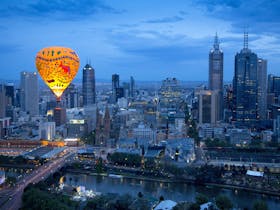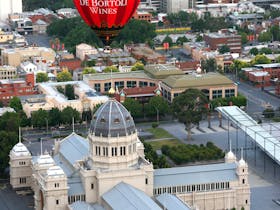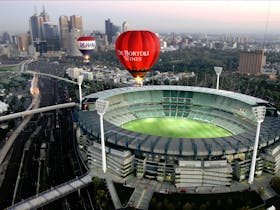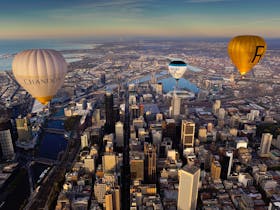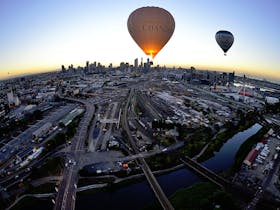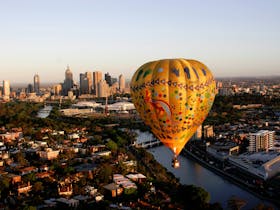 A sunrise hot air balloon flight over Melbourne with Global Ballooning is a truly remarkable experience. Melbourne is one of the only cities in the world you can traverse in a hot air balloon, which makes it a unique and iconic experience. In the early morning light you will drift for approximately one hour over Melbourne's array of parks and gardens, and view some of its iconic buildings and sporting venues like the Eureka Tower, Melbourne Cricket Ground, Melbourne Park and Albert Park racetrack. Global Ballooning also offer transfers from all Melbourne city hotels.
Ballooning Over Yarra Valley With Champagne Breakfast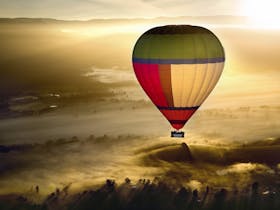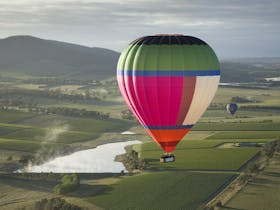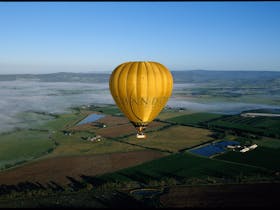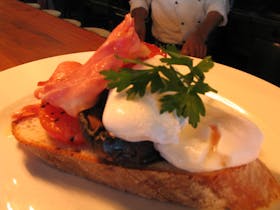 Global Ballooning will meet you before sunrise, and transfer you to the launch site where they set the balloon up ready for launch. Once in the air, you will float over the picturesque landscape typical of this lush region. As the sun rises over the horizon, you will enjoy spectacular views of the scenic valley, the mountains to the north, and Melbourne city skyline to the south. After landing and pack-up, Global Ballooning will transfer you back to award-winning Rochford Wines, for a sumptuous champagne breakfast to toast the morning's adventure. If you are looking for a relaxing activity away from the hustle and bustle of city life, a Yarra Valley balloon flight is a must.
Ballooning Over Yarra Valley (Flight Only)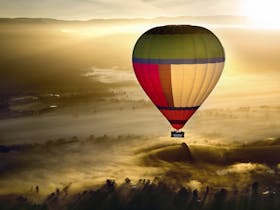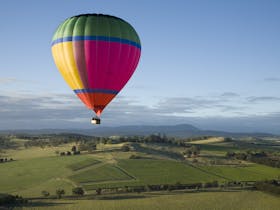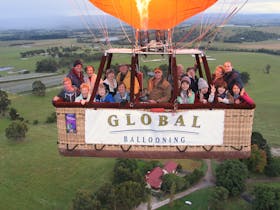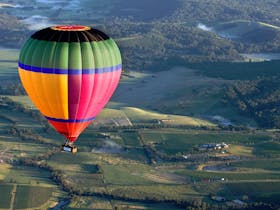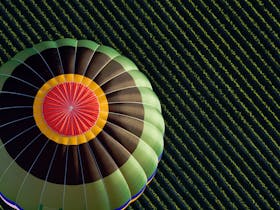 Just one hour east of the Melbourne CBD lies the lush hillsides of the Yarra Valley. Let the breeze usher you in a hot air balloon with Global Ballooning along corridors of grape vines and over the Yarra River as you take in breathtaking views of mountains that surround the spectacular valley. Also offering transfers from all CBD hotels.
Location
ADDRESS:
30 Dickmann Street , Richmond Melbourne Victoria Australia 3121