Captain Cook Cruises began in Sydney in 1970 and for over four decades has proven to be a market leader and premier Sydney Harbour cruise line. Their fleet of restaurant, sightseeing, ferry and sailing vessels offer an exciting range of public cruises and private charters for two to 2,000 guests.
Some of their guests and events have included the Pope, the Presidents of China and the United States of America, Vice Chancellor of Germany, members of the British Royal family, the American basketball `Dream Team'; Incentives for Ford, Amway, Mazda and Nissan; the Supreme and Federal Courts Judges Conference, Commonwealth Games Fundraising Dinners and the Oprah audience – to name just a few. They are proud to have provided employment opportunity for thousands of young Australians, many of whom have gone on to become leaders in their fields.
GOOD TO KNOW
A must do experience for every visitor to Sydney. Discover the most beautiful harbour in the world on a sightseeing cruise that takes you leisurely into the most beautiful and fascinating coves of Sydney Harbour with commentary. Cruise or sail, cocktails or afternoon tea, outer harbour whale watching or education cruises.
YOU WILL FIND…
All vessel gangways will be a minimum of 850 mm wide
Accessible cruises

Sydney 2000 lunch, High Tea, Highlights & Dinner Cruises. The gangway angle is however quite steep; approximately 1 in 5. Customers have independent access to the lower deck (Show Deck) only. Accessible toilets are located on Show Deck.
Harbour Story. This cruise vessel has restricted wheelchair access which may require some assistance to gain entry over storm sills at the entrance to the vessel. Gangway angle is approximately 1 in 6. Customers who require wheelchair access have access to the lower deck only. There is no accessible toilet.
Zoo express. The Rockets used on this run are accessible. Both No.6 Jetty and Taronga Zoo wharves are pontoon wharves and so permit good access to guests. Gangway angle is approximately 1 in 8.

Accessible (pontoon) wharves

No.6 Jetty Circular Quay
Man O War Steps
Taronga Zoo
King St (all wharves)
Harbourside Wharf Darling Harbour
Tours AVAILABLE
Rooms:
Captains Dinner Cruise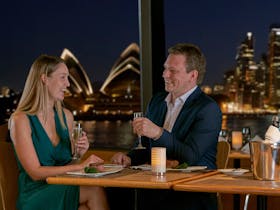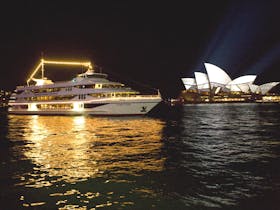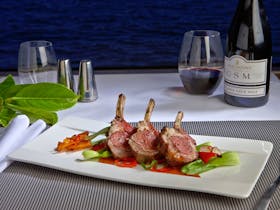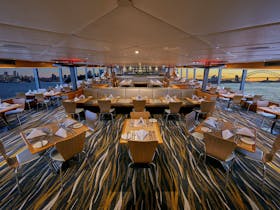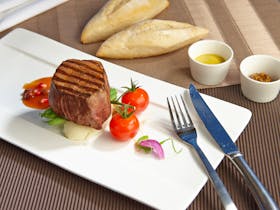 The Captains Dinner Cruise features an expanded food and wine selection, upper deck seating plus great live music and dancing. The beverage list earns top marks with an impressive selection of Australian wines and imported ales on offer. Expansive windows throughout their vessels offer superb viewing no matter where you are seated on the vessel, however if you prefer you can guarantee window seating at a small additional charge. Bar packages are also available with a choice of standard or premium wines, or soft drinks for the kids.
Facilities found here
Family Friendly
Public Toilet
Superyacht AUSPRO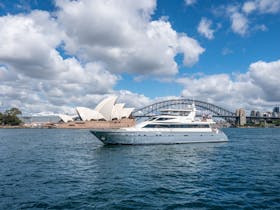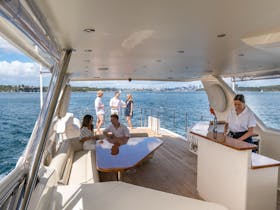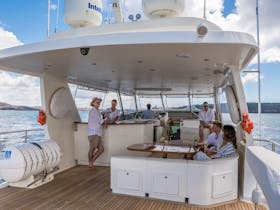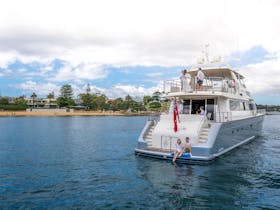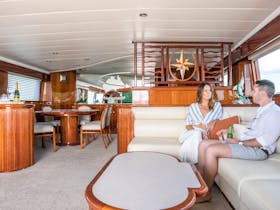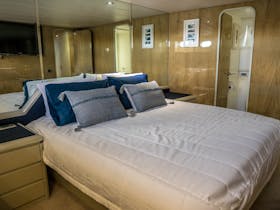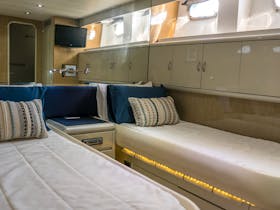 AUSPRO is one of the most exciting and luxurious superyachts to operate on the east coast of Australia. First-class features include expansive entertainment areas above and below deck; a stylish saloon finished in gloss mahogany and teak curved timbers, Italian cream leather upholstery and a padded ceiling with plush carpets; a luxurious ambiance complemented with sophisticated lighting and audio-visual facilities; generous galley with European appliances; plus flybridge with full wet bar, glass fridges, barbecue and LCD Television. With a a stunning Italian designed interior and expansive dining and entertainment areas for up to 45 guests and accommodation for eight guests.
Facilities found here
Family Friendly
Public Toilet
Harbour Story Premium Cruise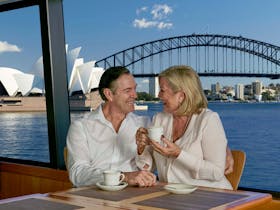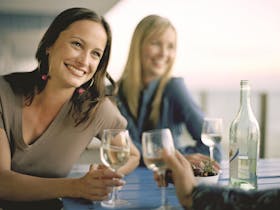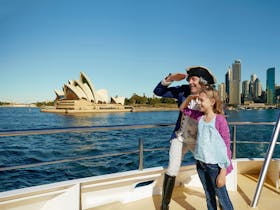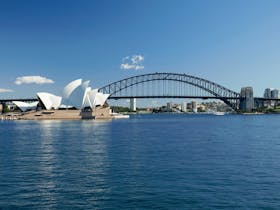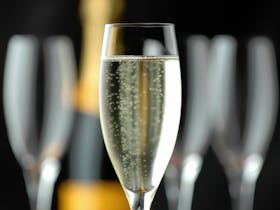 One of Sydney's best sightseeing cruises has just got even better! The Harbour Story Premium Cruise offers an entertaining and personalised commentary of the people, places and events that have made Sydney Harbour the most beautiful and exciting in the world, with premium inclusions. The Harbour Story Premium is more than just a cruise. It's a glass of sparkling wine by the sails of the Sydney Opera House. A machiatto under the Harbour Bridge. A fine blend of tea with the rich and famous. A delicious afternoon tea listening to the stories of Sydney's most amazing characters. Cruise inclusions are a quality sightseeing cruise experience aboard premium sightseeing vessels; personalised commentary of the stories of Sydney; glass of sparkling wine; Vittoria coffee or a selection of fine teas; and Captain's morning tea including a mixed sweet and savoury selection. Duration is approximately two hours. Cruise departs daily at 10am and 2.15pm.
Facilities found here
Family Friendly
Public Toilet
Gold Penfolds Dinner Cruise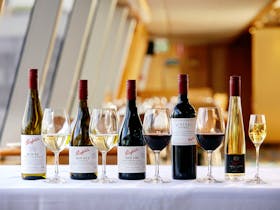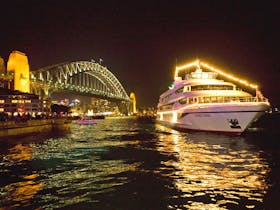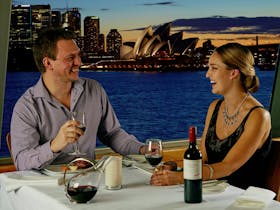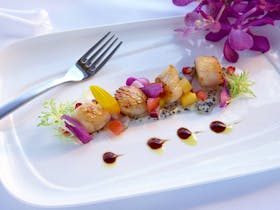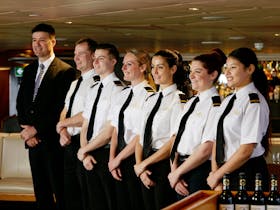 First impressions count. When only the best will do this cruise will impress from the first moment until the last. Every Gold Penfolds Dinner guest is the most important person in the world to them, and before you depart you'll know its true. Cruise on MV Sydney 2000 or John Cadman 2; Priority boarding and welcome reception (available for Circular Quay departures); Six course degustation dining; Gold seating and live music; Penfolds gold selection of bin and vintage wines to accompany each course; House spirits, local and imported beers, liqueur coffee and soft drinks; Million dollar views. Please visit the website for pick-up and drop-off location and times.
Facilities found here
Family Friendly
Public Toilet
Weekend Breakfast Cruise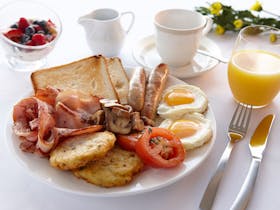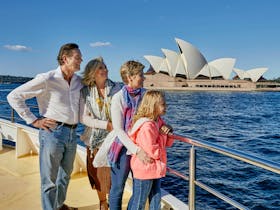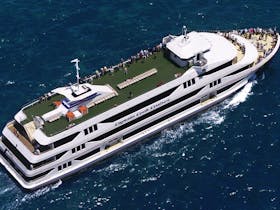 Breakfast Cruise operates on selected special event dates. Sydney mornings sparkle. Breakfast on the Harbour is a fantastic way to start the day for the whole family. Extended family groups love this cruise. The early start is ideal for young children and older grandparents, both of whom are at their best in the morning. As for dad, he's guaranteed to love the buffet. There is a lot of truth in the old adage `the way to a mans heart is through his stomach' because this cruise is their biggest seller on Fathers Day. Enjoy a cruise on MV Sydney 2000 or John Cadman 2, a delicious hot and cold buffet, take in the main Harbour sights and million dollar views.
Facilities found here
Family Friendly
Public Toilet
Harbour Highlights Cruise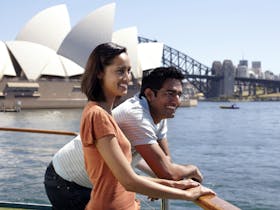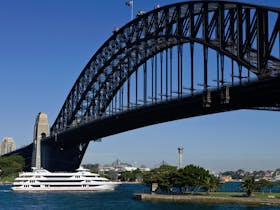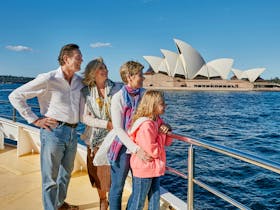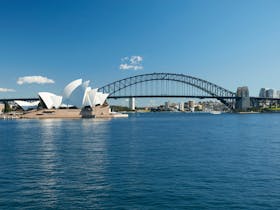 The name says it all. All the Sydney Main Harbour highlights in one and a quarter hours. Capture the moment with your camera as you cruise up close to the Sydney Harbour Opera and past the most exclusive palatial waterfront mansions. Sydney's eastern suburbs are the home to the rich and famous and their stories will amaze and amuse. There is plenty for the children too, with ferry and tug boats criss-crossing the harbour, islands and forts, lighthouses, naval vessels and submarines and even the occasional whale, dolphin, seal or fairy penguin. Cruising under the Sydney Harbour Bridge is always a popular moment and you might even spot the bridge climbers waving to you from the top of the bridge. Cruise duration is one hour and 15 minutes. Cruise the main Harbour sights with commentary. Note: Special cruises and itineraries operate on selected dates.
Facilities found here
Family Friendly
Public Toilet
Sydney Harbour Buffet Lunch Cruise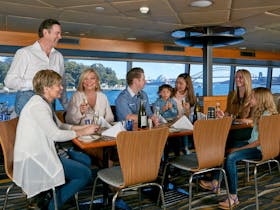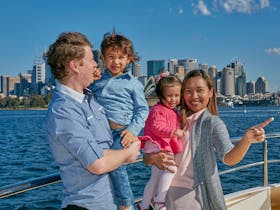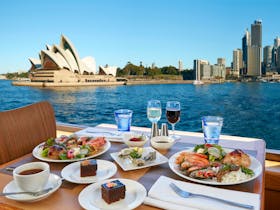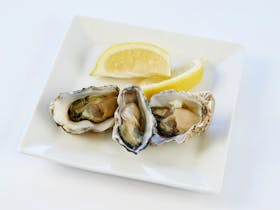 On the buffet, chilled oysters, mussels, ocean prawns and the succulent fish are the most popular treats. Non-seafood eaters, meat lovers and vegetarians can take pleasure in the abundance of international hot and cold dishes, salads, desserts and cheeses. Enjoyed by thousands of visitors every year, this cruise combines a great sightseeing experience with a delicious lunch. After lunch wander up to the open top deck for some Sydney sunshine, a close-up photograph of the Opera House gliding by, or wave at the climbers as they cruise under the Sydney Harbour Bridge.
Facilities found here
Family Friendly
Public Toilet
High Tea at Sea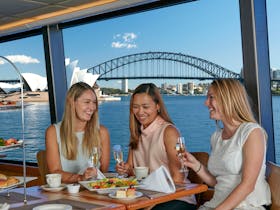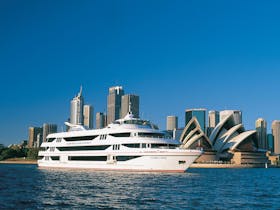 Girl day outs, kitchen teas, hens parties, baby showers, birthdays and charity events are all regulars customers, along with many visitors to Sydney. The party is started with a glass of pink bubbly, your choice of fine tea is prepared as the tiered-platters arrive to tantalise the taste buds. Blinis topped with prawns, whole chocolate coated strawberries, mini savoury pastries and much, much more. Meanwhile the spectacular Sydney skyline glides by, viewed from the enormous picture windows throughout your spacious cruising restaurant.
Facilities found here
Family Friendly
Public Toilet
Hop On Hop Off Harbour Explorer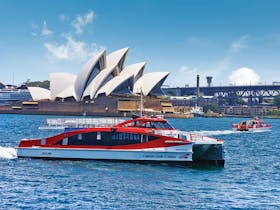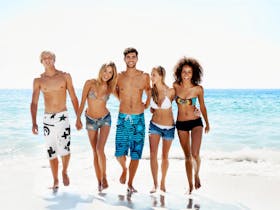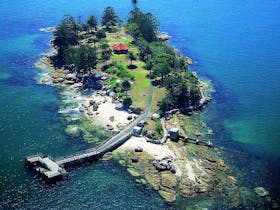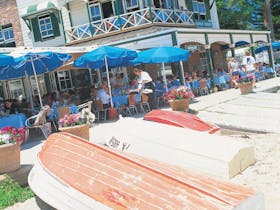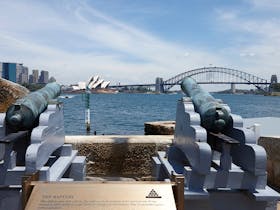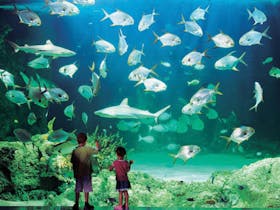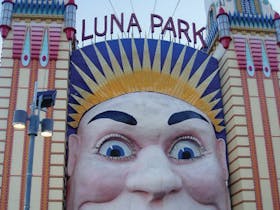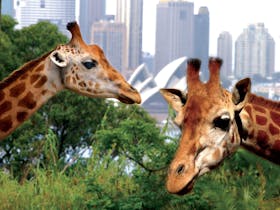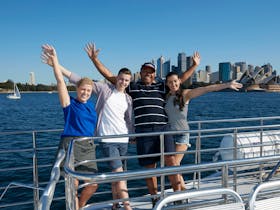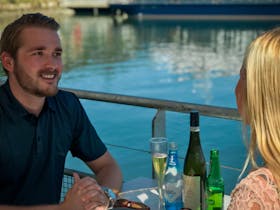 The Hop On Hop Off Harbour Explorer is the complete Sydney Harbour Explorer experience. Including a two day pass, these red rocket ferries criss-cross the harbour throughout the day, travelling between eleven famous stops including Darling Harbour, ICC Sydney, Barangaroo, Circular Quay, Taronga Zoo, Manly, Watsons Bay, Fort Denison, Luna Park, Shark Island and Australian Maritime Museum. On the weekends you can also add Sydney Fish Market, the biggest of its kind on the Southern Hemisphere, to one of your destinations. 30-45 minutes between vessels; Easy combined attraction passes; 60 to 90 minute round trip cruise; Live guided commentary. Taronga Zoo entry and Sky Safari cable car, Sea Life Sydney Aquarium, Wild Life Sydney Zoo entry (Darling Harbour), Madame Tussauds entry (Darling Harbour), Sydney Tower Eye entry (City Centre), Manly Sea Life Sanctuary (Manly), 24 Hour Sydney and Bondi Big Bus Explorer. Daily timetables may vary depending on the what's happening on the harbour. To see the Harbour Explorer daily timetable visit the website.
Facilities found here
Family Friendly
Non Smoking
Pet Friendly - Enquire
Public Toilet
Zoo Express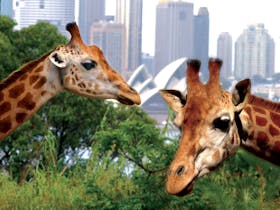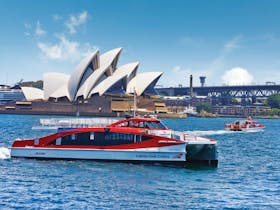 The most fun way to travel to the Zoo. A great savings bundle including return rocket ferry departing Darling Harbour, Circular Quay or Manly, and entry to Taronga Zoo and Sky Safari cable car, Ticket includes return ferry to Taronga Zoo from Circular Quay or Darling Harbour or Manly, entry to Taronga Zoo, Sky Safari cable car, and, of course, fun for the whole family! Departs approximately every 30 minutes from Circular Quay, and the Aquarium Wharf at Darling Harbour.
Facilities found here
Family Friendly
Non Smoking
Public Toilet
Top Deck Lunch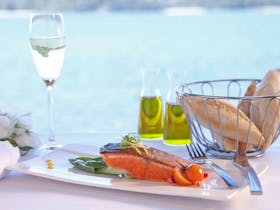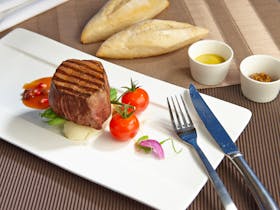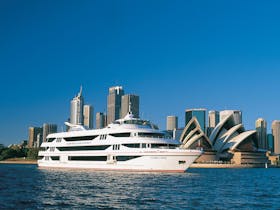 Created for the locals, this cruise is an exceptional 360 degree waterfront restaurant experience. The menu is premium a al carte and served on the uppermost restaurant deck with the best views in Enjoy a cruise on MV Sydney 2000, two course contemporary Australian a la carte dining, the main Harbour sights, and million dollar views. Departs: Wharf No.6, Circular Quay at 12.30pm. Wharf No.1, King Street Wharf at 12 noon.
Facilities found here
Family Friendly
Public Toilet
Platinum Penfolds Grange Dinner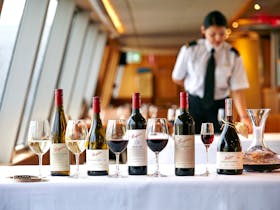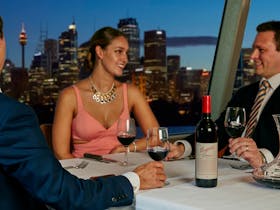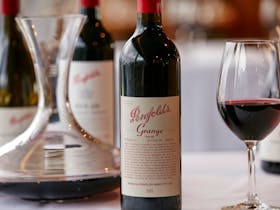 Platinum Penfolds Grange Dinner Cruise - the new luxury wine and dining experience on Sydney Harbour. Penfolds Grange, arguably Australia's most celebrated wine and an official Heritage Icon of South Australia, is the featured wine in this six-course degustation dinner cruise.
Facilities found here
Family Friendly
Public Toilet
Sunset Dinner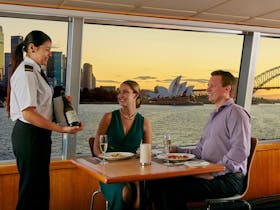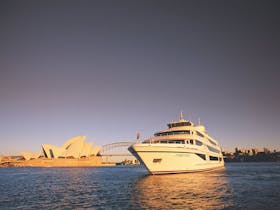 Pre-theatre dining or a great way to finish a spectacular day sightseeing. The 5pm departure takes in all the colours of autumn/spring sunsets, winter twilight and the endless days of summer. Your tour includes a cruise on MV Sydney 2000 or John Cadman 2, Contemporary Australian dining - shared mezze plate plus a choice of mains and desserts, Tyrrell's sparkling and still wines, beer and soft drinks, and million dollar views. Departs Darling Harbour King Street Wharf No. 1 at 5pm. Returns 6.30pm.
Facilities found here
Family Friendly
Public Toilet
White Bay Cruise Terminal City Ferry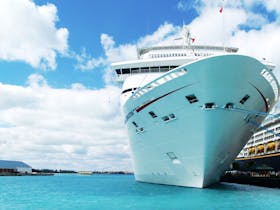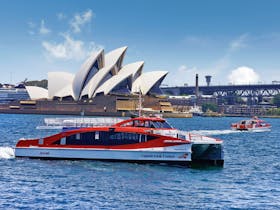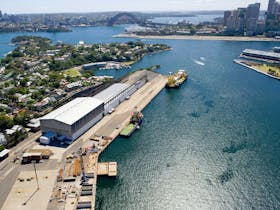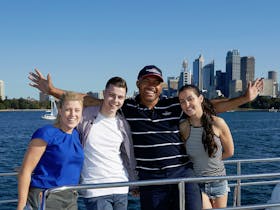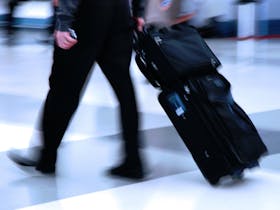 Faster ferry service and easier access to the heart of Sydney City: Services now operate more frequently - approximately every 15-20 minutes. New Wynyard Walk provides quicker, easier access to Darling Harbour. The White Bay Cruise Terminal City Ferry operates from Darling Harbour King Street Wharf No.1 (Barangaroo). The recent opening of the new Wynyard Walk provides world-class, pedestrian access from Wynyard Station transport hub, in the heart of Sydney city, to King Street Wharf and adjacent Barangaroo. The short six minute Wynyard Walk provides access to the waterfront, avoiding steep inclines and road crossings for people with a disability, the elderly and people with strollers and luggage.
Facilities found here
Family Friendly
Non Smoking
Pet Friendly - Enquire
Public Toilet
Manly to Barangaroo Fast Ferry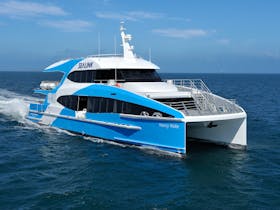 Barangaroo Fast Ferry is the only direct service between Manly and Barangaroo, cutting travel time to Barangaroo and surrounding precincts significantly. Ferries depart every 30 minutes during peak hours and approximately every 60 minutes during the day and weekends.
Facilities found here
Family Friendly
Non Smoking
Pet Friendly - Enquire
Public Toilet
Whale Watching Cruise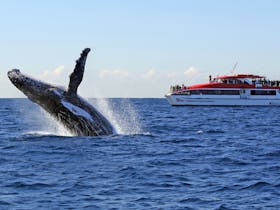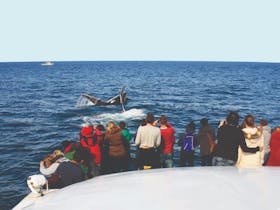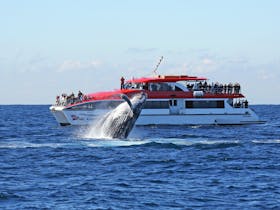 An extraordinary opportunity to see the gentle giants of the sea on their annual migration. Begin with the backdrop of Sydney Harbour before cruising outside the Heads on the lookout for some Humpbacks and maybe even a Southern Right. These amazing mammals love to show off with breaches, tail slaps and maybe even a sneaky wink when they are feeling extra curious. Afternoon cruises operate daily, with additional morning departures on weekends May to October. See Humpbacks and the occasional Southern Right whale during migration, and enjoy an open water cruise through the entrance of Sydney Harbour aboard an ocean catamaran with open-air and all-weather lounge viewing. Whale Sighting Guaranteed or cruise again for free (see the website for details). Cruise is approximately two hours 45 minutes. All departures subject to minimum numbers and weather conditions. Special cruises and itineraries operate on selected dates. This is an open water cruise and you will experience sea motion. They recommend you eat lightly before and during the cruise. They have a 95 percent plus success rate. The Whale Guarantee applies when a whale is not sighted during your cruise. Cruise again in the same season for free.
Facilities found here
Family Friendly
Non Smoking
Public Toilet
Location
ADDRESS:
Circular Quay Wharf No.6 Circular Quay Wharf No.6, Sydney Sydney City New South Wales Australia 2000