Buslink, the passenger transport professionals, are the Northern Territory's largest private bus company, operating over 120 vehicles. Buslink operate public bus, school bus and charter bus services throughout the Northern Territory.
Buslink have extensive experience in conference and major event transport, recently providing coach transport for over 600 delegates attending the ABACUS conference. This included airport transfers, daily shuttle buses from hotels and return and Darwin sights tours.
WHY ISN'T THE GOOD ACCESS BADGE TURNED ON?
Some listings are here because we think they're pretty cool and you should know about them! And some, we just haven't quite got enough info to make the 'Good Access' call yet.. so to answer the question, a business could be listed on our site if:
A. The business indicates they have some accessible facilities, but we haven't quite gotten around to chatting through the details, stay tuned! If you've been here, leave a review and let us know about your experience!
B. We have spoken to their team.. the facilities aren't quite what we'd call accessible BUT we've provided you with 'good to know' tips in case you're keen to give it a go anyway!
Hires AVAILABLE
Rooms:
Coaches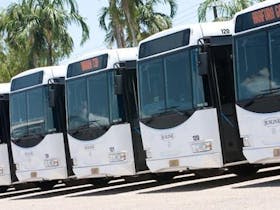 Buslink has a large variety of vehicles available for charter. They supply the driver, you supply the itinerary. Whether it's a four day tour of Kakadu watching the sunset at Ubirr, or transfers around town for your convention. There are a range of coaches available, a 24 seater, 46 seater, 48 seater, 53 seater and a 57 seater.
Location
ADDRESS:
113 Pruen Rd , Darwin Darwin Area Northern Territory Australia 0828