BBQ Buoys are the latest leisure innovation on the River Torrens in Adelaide, South Australia.
BBQ Buoys seat up to 10 of your favourite crew around a table with beverage bowl or barbecue grill floating along the Adelaide Riverbank precinct. Invite your team members, colleagues and business partners for an impressing, fun and private 1-2h ride on a BBQ Buoy.
You find us at Pinky Flat only a few walking minutes away from Adelaide CBD, Convention Centre, Casino, Intercontinental Hotel, Festival Centre and Adelaide Oval. If you are planning your next corporate event and you are currently looking for a unique location then get in touch with us.
WHY ISN'T THE GOOD ACCESS BADGE TURNED ON?
Some listings are here because we think they're pretty cool and you should know about them! And some, we just haven't quite got enough info to make the 'Good Access' call yet.. so to answer the question, a business could be listed on our site if:
A. The business indicates they have some accessible facilities, but we haven't quite gotten around to chatting through the details, stay tuned! If you've been here, leave a review and let us know about your experience!
B. We have spoken to their team.. the facilities aren't quite what we'd call accessible BUT we've provided you with 'good to know' tips in case you're keen to give it a go anyway!
Hires AVAILABLE
Rooms:
BBQ Buoys for 1h
Book a BBQ Buoys for 1h for max 2, max 5 or max 10 people.
BBQ Buoys for 2hrs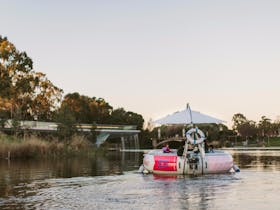 Book a BBQ Buoy for 2hrs with 2, 5 or up to 10 people
Location
ADDRESS:
Pinky Flat Warm Memorial Drive , Adelaide Adelaide South Australia Australia 5006