The largest day tour and charter operator in southeast Queensland, Australian Day Tours run daily tours showcasing the highlights of this world famous tourist region from the glorious hinterland to city sights, the international tourism magnets of Byron Bay and Australia Zoo and the exciting range of theme parks. See beaches, rainforest, man-made wonders, glow worms, river cruises, fresh seafood, feed dolphins and cuddle native animals.
Australian Day Tours do their best to serve up Queensland's best!
WHY ISN'T THE GOOD ACCESS BADGE TURNED ON?
Some listings are here because we think they're pretty cool and you should know about them! And some, we just haven't quite got enough info to make the 'Good Access' call yet.. so to answer the question, a business could be listed on our site if:
A. The business indicates they have some accessible facilities, but we haven't quite gotten around to chatting through the details, stay tuned! If you've been here, leave a review and let us know about your experience!
B. We have spoken to their team.. the facilities aren't quite what we'd call accessible BUT we've provided you with 'good to know' tips in case you're keen to give it a go anyway!
Tours AVAILABLE
Rooms:
Oreilly's and Lamington National Park (depart from Brisbane and Gold Coast)
Take in the spectacular panoramic views of the Gold Coast from Tamborine Mountain then travel onward to O'Reilly's for the Treetop Canopy Walk to discover historic logging tracks and hear the epic adventures of early settlers and heroic rescue stories of the Stinson plane crash. There is ample time to sample to Queensland made wines and fresh local produce.
Australia Zoo (Depart Brisbane and Gold Coast)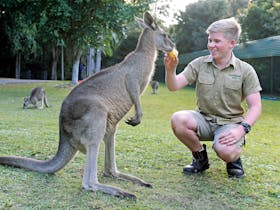 Australia Zoo on Queensland's Sunshine Coast is nestled on over 100 acres of natural Australian bushland, and is home to 1,200 native and exotic animals. Check out giraffe, rhinos, cheetah and zebras on the African Savannah, plus Sumatran Tigers, Bengal Tigers and red pandas in South-East Asia. And be sure to visit the newly opened Bindi's Island, where guests can get up close with ring-tailed lemurs, giant Aldabran Tortoises and colourful macaws! Grab a good seat for the midday Wildlife Warriors show, where you can catch all the slithering, swooping, jaw-snapping action of the snakes, birds and crocs LIVE in the Crocoseum. You can also learn heaps about these amazing animals by booking in for one of the animal encounters or checking out the other daily shows on offer. And don't forget to say hello to all the roving wildlife around the zoo too!
Byron Bay Highlights and Tropical Fruit World (Depart Gold Coast only)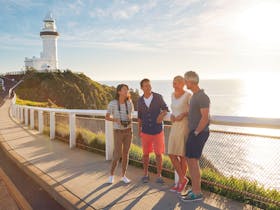 Stand on the eastern most edge of the Australian continent at lifestyle capital and international tourism magnet, Byron Bay. See cliff top Cape Byron Lighthouse, trendy shops, eateries and the sapphire blue Pacific Ocean. If you are lucky, spot turtles, dolphins and whales. They stop at award-winning Tropical Fruit World for Mount Warning views, exotic fruits, cafeteria and gift shopping. Take home some rare fruits!
Glow Worm Night Tour (Depart Gold Coast Only)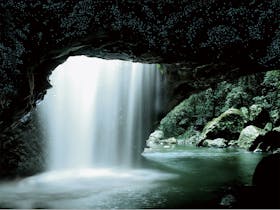 Gasp at the beauty of glow worms at one of the world's most significant natural sites, Springbrook National Park. Like stars in the night sky these tiny larvae light up the dark, moist cave and create a spectacular sight. An adventurous and memorable night!
JPT Cruise Crab Trip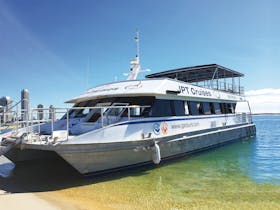 Cruise the Gold Coast Broadwater and visit the sand island named Wavebreak Island. Crab Trip Activities: Crab catching demonstration, pumping yabbies and fishing on island. Enjoy Australian life and fun while looking for soldier crabs and picking up shells on the island.
Location
ADDRESS:
51 Brisbane Road , Biggera Waters Gold Coast Area Queensland Australia 4216