Alice Springs Expeditions offers small group tours (up to 6 passengers) to some of the lesser know but spectacular natural attractions around Central Australia. The owner / tour guide has extensive knowledge of the region, with a passion for exploring less visited sites off the traditional tourist trails. Day tours and extended tours are offered, with a strong focus on providing a uniquely outback experience.
Our multi-night exploratory adventures are located away from commercial campsites to best experience the quiet of the bush. All tours are in a luxury 4wd vehicle, with a strong emphasis of comfort, good food and always in a safe environment.
WHY ISN'T THE GOOD ACCESS BADGE TURNED ON?
Some listings are here because we think they're pretty cool and you should know about them! And some, we just haven't quite got enough info to make the 'Good Access' call yet.. so to answer the question, a business could be listed on our site if:
A. The business indicates they have some accessible facilities, but we haven't quite gotten around to chatting through the details, stay tuned! If you've been here, leave a review and let us know about your experience!
B. We have spoken to their team.. the facilities aren't quite what we'd call accessible BUT we've provided you with 'good to know' tips in case you're keen to give it a go anyway!
Tours AVAILABLE
Rooms:
Finke Gorge Explorer - 2 days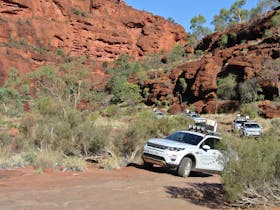 Explore the worlds oldest river by driving down this normally dry river bed. Camp on its sandy bed surrounded by the blood red cliffs of the gorge.
Facilities found here
Family Friendly
Non Smoking
Location
ADDRESS:
5 Corkwood Place , Stuart Alice Springs Area Northern Territory Australia 0870