WA Experts was founded in 2014 and based in Perth, Western Australia. They offer travellers all the freedom to customise their trip, just the way they like it. They are not just another car-rental business and they look forward to helping you make your trip unforgettable!
Iwan Boskamp is the owner of WA Experts. Born in Western Australia, Iwan grew up in Amsterdam, The Netherlands. After spending many holidays in Australia, he returned for good to Perth in 2010. Western Australia was the logical choice as Iwan has lots of friends and family here.
Having travelled extensively throughout Western Australia, the Northern Territory and South Australia, Iwan finds no greater pleasure than sharing his knowledge and experience before sending customers on their way. For travellers who find self-drive tours a bit intimidating, it is possible to explore some of the most remote areas in a small convoy. Up to four cars will travel together, including one from WA Experts. They can assist in planning and organising your trip from door to door, or they can just supply you with a rental car and some sound advice.
WHY ISN'T THE GOOD ACCESS BADGE TURNED ON?
Some listings are here because we think they're pretty cool and you should know about them! And some, we just haven't quite got enough info to make the 'Good Access' call yet.. so to answer the question, a business could be listed on our site if:
A. The business indicates they have some accessible facilities, but we haven't quite gotten around to chatting through the details, stay tuned! If you've been here, leave a review and let us know about your experience!
B. We have spoken to their team.. the facilities aren't quite what we'd call accessible BUT we've provided you with 'good to know' tips in case you're keen to give it a go anyway!
ACTIVITIES YOU CAN ENGAGE IN
Camping
Four Wheel Driving
Hires AVAILABLE
Rooms:
The Family Troopy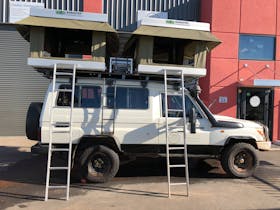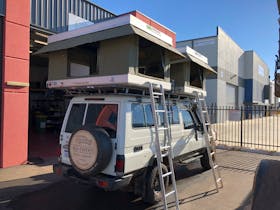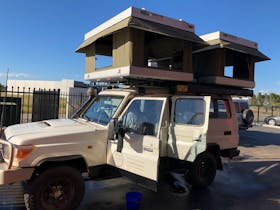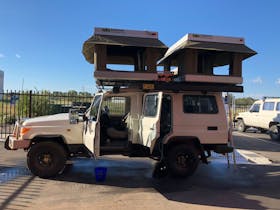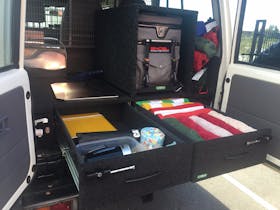 Gaze at the stars from your rooftop tent! This Toyota LandCruiser is fully equipped for five people with camping gear, table and chairs, cooking utensils and more. Their Family Troopy (Model 4) This model has a 4.5 litre Turbo-diesel V8 engine with a manual gearbox. They now have a model available with tho extra seats behind the front bench. This vehicle is equipped with two rooftop tents sleeping two each. The possible fifth person can sleep in a separate tent or swag.
The Standard Troopy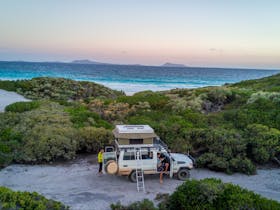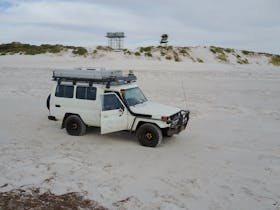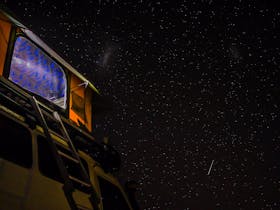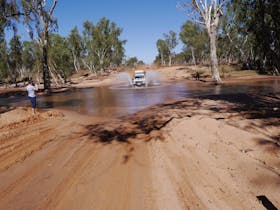 The Standard Troopy is for two or three people. Gaze at the stars from your rooftop tent! This Toyota LandCruiser is fully-equipped for two, maximum three people with camping gear, table and chairs, cooking utensils and more. The best way to discover Australia's remote areas is with a four wheel drive campervan, fitted with all modern conveniences. Their fleet consist of several Toyota LandCruiser 70 Troop Carriers or "Troopies". The current models have a 4.5 litre Turbo diesel engine and were originally designed to transport up to 11 people. The fuel usage will be approximately 15 litres per 100 kilometre, fully packed and combined on bitumen and gravel. With some planning it is possible to remain completely isolated for a few weeks without any problems. On the roof of all of the Troopies you will find an electric rooftop tent which sleeps two and if needed they will supply a mattress in the rear compartment for a third person to sleep on. Although their Troopies are equipped to carry up to three people on the front bench, the travel will be a lot more comfortable with only two persons per vehicle.
Location
ADDRESS:
Remisko Drive Unit 4/16, Forrestdale Swan Valley and Perth Hills Western Australia Australia 6112