Owned and operated by Wil and Jacqui Hikuwai, Hervey Bay Eco Marine Tours is located on the beautiful Fraser Coast, Queensland.
The Great Sandy Straits boasts safe, protected waterways, coral reefs and an abundance of marine and sea bird life. The vessel is proudly named "Milbi" which carries the Butchulla meaning for 'sea turtle'. At 12 metres in length, she is one of the largest glass bottom vessels in Australia.
Explore Round Island, Big Woody Island, snorkel the reef or just relax. Join in on the search for turtles, dolphins, dugongs, reef fish and seabirds.
Time will be set aside for a refreshing swim in clean clear waters.
Local Aboriginal guide shares his knowledge of the Great Sandy Straits, providing you with a unique cultural experience. You will learn about the oldest surviving culture on Earth. Here lies an incredible opportunity to view the stunning coastal wilderness through the eyes of a local Butchulla man. Their land and sea custodians have called this beautiful land home for thousands of years and welcome you with open arms.
Educational guided eco-tours available from morning through to sunset.
WHY ISN'T THE GOOD ACCESS BADGE TURNED ON?
Some listings are here because we think they're pretty cool and you should know about them! And some, we just haven't quite got enough info to make the 'Good Access' call yet.. so to answer the question, a business could be listed on our site if:
A. The business indicates they have some accessible facilities, but we haven't quite gotten around to chatting through the details, stay tuned! If you've been here, leave a review and let us know about your experience!
B. We have spoken to their team.. the facilities aren't quite what we'd call accessible BUT we've provided you with 'good to know' tips in case you're keen to give it a go anyway!
ACTIVITIES YOU CAN ENGAGE IN
Tours AVAILABLE
Rooms:
Turtle Discovery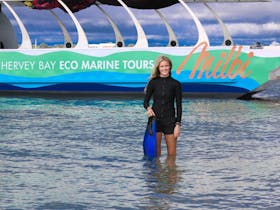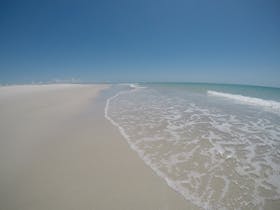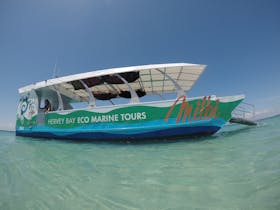 Join this leisurely, fully guided eco-tour through the calm, clear waters of the Great Sandy Marine Park. You will be able to view the coral gardens from the comfort of the Milbi, one of Australia's largest glass bottom boats. This tour offers snorkelling equipment to enable you the ultimate experience of coming face to face with the infinite wonders of the marine park. You are likely to see fish habitat amongst the coral reef, turtles, dolphins, sea bird colonies, and possibly a reef shark or dugong. Time is set aside to explore Round Island and enjoy a healthy lunch. They may also pay a visit to the spectacular Pelican Banks famous for its crystal clear waters or discover the magic of Big Woody Island. Whilst it is their aim to offer you the best marine excursion possible, please note that their Turtle Discovery Eco Tour inclusions may vary slightly to optimise the most favourable weather conditions for your comfort.
Facilities found here
Carpark
Family Friendly
Non Smoking
Public Toilet
Location
ADDRESS:
17 Buccaneer Drive Office 6, Hervey Bay Fraser Coast Area Queensland Australia 4655