DESCRIPTION
Helivista is the only Helicopter operator based in the Flinders Ranges.
We offer a range of services including:
Scenic flights.
Heli-Hiking
Bubbles and Canapes Sunset Flight
Heli-Swag overnight
Photography flights
You can choose one of our packages or we can tailor something to your needs.
Showcasing the Flinders Ranges in a different way.
Emphasizing adventure and nature based enjoyment of our environment.
Try our brand new adventure package:
Be flown in your private chopper up to the top of the Chase Range overlooking Wilpena Pound. Enjoy a glass of wine while your pilot sets up the swag and camp for you.
Relax and enjoy the sunset and view while enjoying a packed dinner.
Overnight do some star gazing.
In the morning continental breakfast is provided at your leisure.
Then your pilot will fly in and pick you up!
ACCESSIBLE STANDARD
This information has been supplied by the tourism operator via the Australia Tourism Data Warehouse and is yet to be verified as meeting The Good Scout Accessible Standard.
Tours AVAILABLE
Rooms:
Heli Bubbles and Canapes.... or Swagging overnight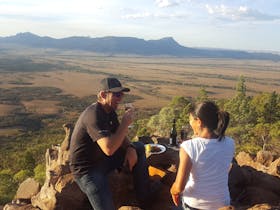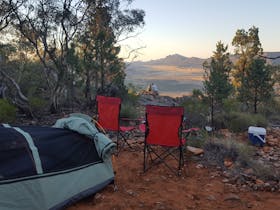 Fly via Rawnsley Bluff and land on our private helipad at the top of the Chace range. Enjoy amazing the sunset over distant Ranges and the light fading over the remarkable Wilpena Pound. Bubbles and Canape's provided. Then before dark be flown down the mountain back to camp.... "a romantic must!"
Facilities found here
Carpark
Family Friendly
Non Smoking
Public Toilet
Location
ADDRESS:
Rawnsley Park Station , Flinders Ranges Flinders Ranges South Australia Australia 5434