Harley Rides in Melbourne comes to your hotel or home and takes you on a tour with a difference on genuine Harley Davidson motorcycles. Views from your seat as a passenger on the back of a Harley Davidson are far superior to any other comparable tour. You can use your camera while sitting on the back of your bike.
Harley Rides will be nothing like you would expect if you had never done it before – this will surprise you and exceed your expectation. Harley Rides are rated five Stars on Trip Advisor.
You do not need any special clothing as you are provided with a jacket, helmet and protection against inclement weather. There are also bikes fitted with sidecars.
They take you where you choose, to the Yarra Valley, the Dandenong Ranges, all the way down the Great Ocean Road or just for a quick introduction to Melbourne One Hour ride. It is the best way to experience Melbourne and surrounds. Tours are for anyone, not just motorcycle enthusiasts.
HD Chauffeur Ride Pty Ltd, the oldest and most experienced Harley Ride Company in Melbourne, having catered for thousands of happy customers as far back as 1993.
WHY ISN'T THE GOOD ACCESS BADGE TURNED ON?
Some listings are here because we think they're pretty cool and you should know about them! And some, we just haven't quite got enough info to make the 'Good Access' call yet.. so to answer the question, a business could be listed on our site if:
A. The business indicates they have some accessible facilities, but we haven't quite gotten around to chatting through the details, stay tuned! If you've been here, leave a review and let us know about your experience!
B. We have spoken to their team.. the facilities aren't quite what we'd call accessible BUT we've provided you with 'good to know' tips in case you're keen to give it a go anyway!
Tours AVAILABLE
Rooms:
Harley Davidson Yarra Valley Winery Tour Joyride Experience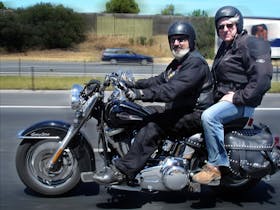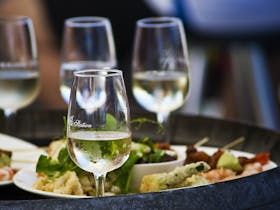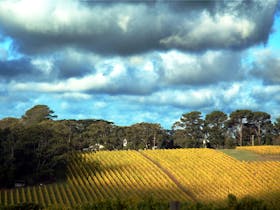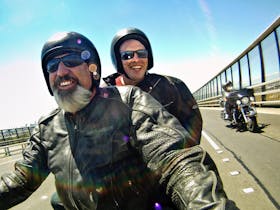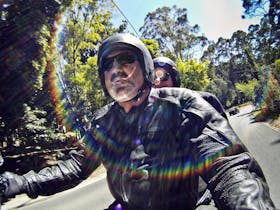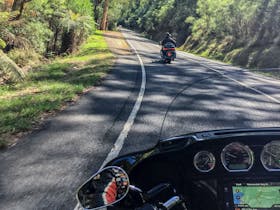 Is there a better way to get to the Yarra Valley, other than on the back of a genuine Harley Davidson motorcycle with Harley Rides in Melbourne? Everyone who has done it agrees that there is no better way to experience the Yarra Valley. This Harley Rides in Melbourne adventure takes you on a journey to the great winery valley of Yarra Valley, as a passenger on a genuine Harley Davidson. The wine is the main excuse for the ride so you can taste wine and food that is out of this world. This tour can be either four or five hours in duration. The more time there is, the further you can venture. From the city head out to Yarra Glen via Kangaroo Ground, along a very scenic ridge that overlooks the Yarra Valley. This is an extremely scenic route and it takes about an hour to the first winery. Once in the Yarra Valley we visit a few wineries, go to Healesville for coffee or a bite of lunch, then stop off at Domaine Chandon before heading back to the city.
F1 Grand Prix Track One Hour Tour Experience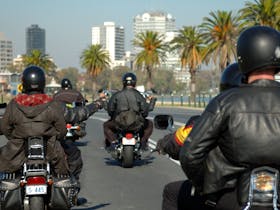 Let Harley Rides in Melbourne take you around the Albert Park Formula 1 Grand Prix Track. You really get the feel of things as your Harley Davidson leans into the corners. Share the Harley Rides in Melbourne tour experience with as many friends as you like, riding two or more abreast or seated in a sidecar with a friend. It is the best way to experience the F1 Grand Prix Track. The F1 Grand Prix Track can be added to all rides that start in the centre of Melbourne. Harley Rides in Melbourne can stop for photos or you can use your camera while seated on your bike as you cruise around the circuit. Harley Rides in Melbourne can cover a lot of ground in an hour, but you can also carry on to see some more sights. Contact Harley Rides in Melbourne about advice on designing your own tour of Melbourne. There is no comparison, then riding on a genuine Harley Davidson.
Melbourne Harley Davidson One Hour Tour Introduction Experience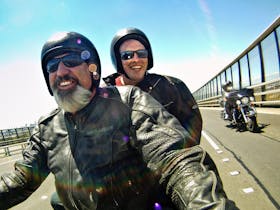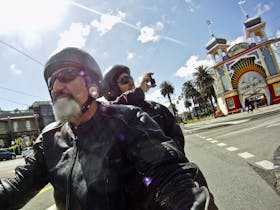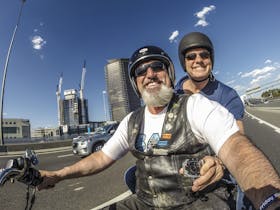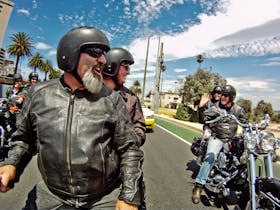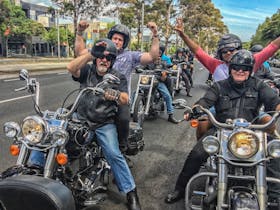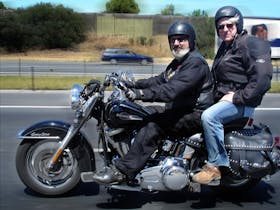 There is no better way to Experience Melbourne compared to riding as a pillion on a Harley Davidson. Its a completely different perspective as the passenger on on a motorcycle being ridden by a fully qualified and experienced Melbourne Harley Davidson Rides and Tours expert who have a superior knowledge of Melbourne. Harley Rides in Melbourne takes you around Melbourne seeing the highlights, this is their most popular experience. Talk with you rider and get hints and tips on this one hour trip. In an hour you are shown inner Melbourne. This is the best way to see the city in a short period of time - and take in the Harley Ride experience. The route taken normally includes the Bolte Bridge, Westgate Bridge, Burnley Tunnel (toll free), Yarra Boulevard Toorak/South Yarra, Beaconsfield Parade Beachfront, Acland St and Fitzroy Street St Kilda and Grand Prix Circuit. Please note, route may vary depending on pick up point. Your Melbourne Harley Davidson Rides and Tours rider/guide will arm you will lots of advice on where to go and what to do next during your visit to Melbourne.
Harley Davidson Dandenong Ranges Tour Three Hour Joyride Experience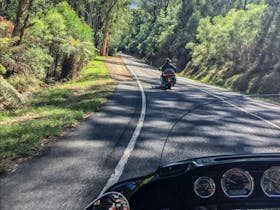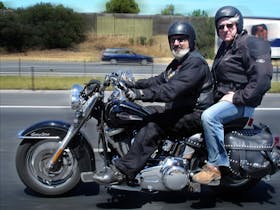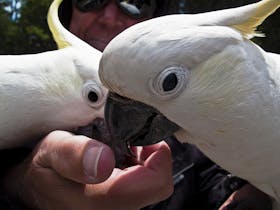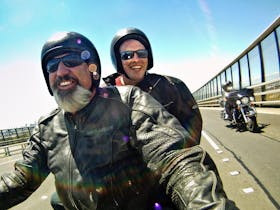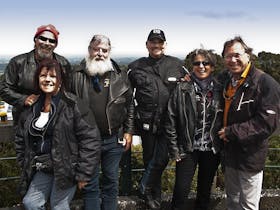 There is no better way to explore the hills, than as a pillion passenger seated behind your rider on a genuine Harley Davidson Motorcycle. Not until you have done this will you realise why this is the 'must do' Melbourne experience. The Dandenong Ranges are best viewed from the back of a motorbike. Everyone comes back smiling and enthused after this tour. This tour takes you out of the city and to the nearby hills around the Dandenong Ranges. This is one of the most popular experiences for those who have more time to come on a great adventure with Melbourne Harley Davidson Rides and Tours. Its a three hour tour that you won't forget. The Dandenong Ranges Experience is a three hour motorcycle tour which is broken up into enjoyable chunks and includes stops every hour or so.
Harley Davidson Great Ocean Road Tour Experience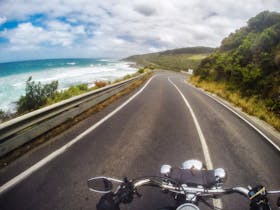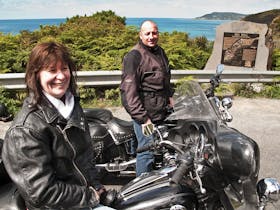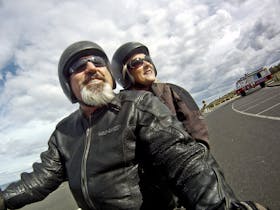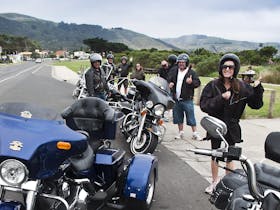 In a world where oceans rule, one machine defines the greatest experience, on the greatest coastal road, one of Harley Rides in Melbourne machine's will show you why this stretch of road is so iconic. The Great Ocean Road is the most travelled route in Victoria, why not experience it on the back of a Harley Davidson instead of on a large coach; this is a ride you will never forget. Experience the Great Ocean Road with Harley Rides in Melbourne as a passenger on a genuine Harley Davidson motorcycle during a day tour going to Apollo Bay or as far as the 12 Apostles, you choose. This is the ultimate experience that is far superior to any other way of travelling down this spectacular piece of Victoria. Their riders love this road and know it intimately. Harley Rides stop for breaks every hour or so with coffee at Anglesea, lunch at Apollo Bay, return via coffee stop at Anglesea. Or if you go all the way to the 12 Apostles it a different route and stop to view the Apostles and coffee in Port Campbell. Your experienced drivers are more than happy to stop for photos wherever you like.
Location
ADDRESS:
Swanston Street and Flinders Street , Melbourne Melbourne Victoria Australia 3000