Gawler Ranges Safaris offer amazingly beautiful outback, wildlife specialty tours.
With Gawler Ranges Wilderness Safaris you will see an amazing diversity and profusion of wildlife in numbers rarely seen elsewhere in Australia.
The Mallee region of the Eyre Peninsula has an extraordinary range of wildly beautiful outback country boasting contrasting colours of red sands and rocky gorges, blue skies and the glistening white of massive Lake Gairdner. It is one of few places that three large species of kangaroos can be seen in amazing numbers.
Together with over 100 species of birds, wild koalas at Port Lincoln and swimming with sea lions and dolphins at Baird Bay, you will see almost everything in wild Australian animal types to see on a three or four day tour.
Guests stay at Kangaluna Camp, a boutique permanent tented camp that caters for up to 14 guests in a resonantly Australian setting.
WHY ISN'T THE GOOD ACCESS BADGE TURNED ON?
Some listings are here because we think they're pretty cool and you should know about them! And some, we just haven't quite got enough info to make the 'Good Access' call yet.. so to answer the question, a business could be listed on our site if:
A. The business indicates they have some accessible facilities, but we haven't quite gotten around to chatting through the details, stay tuned! If you've been here, leave a review and let us know about your experience!
B. We have spoken to their team.. the facilities aren't quite what we'd call accessible BUT we've provided you with 'good to know' tips in case you're keen to give it a go anyway!
ACTIVITIES YOU CAN ENGAGE IN
Four Wheel Driving
Birdwatching
Camping
Snorkelling
Walk
Tours AVAILABLE
Rooms:
Outback Contrasts Four Day Tour - 40C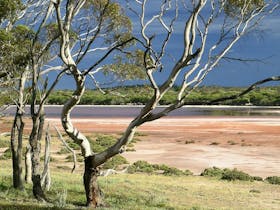 From Wudinna Rock, a large granite monolith, experience a four wheel driving adventure as we track through low-bush covered dunes past Mount Sturt and the Corrobinnie Depression. Passing through beautiful valleys and gorges to Lake Gairdner which looks like a piece of Antarctica in the midst of a red desert. Operates: From Wudinna or Port Lincoln by arrangement.
Outback to the Sea Four Day Tour - 4OTS
Starting at Port Lincoln, visit Mikirra koala colony, travel into the bush to Mount Sturt and the Corrobinnie Lakes. Drive to Lake Gairdner, a white salt pan set in the middle of a red landscape. See emus and kangaroos in the evening while driving through the ancient outback. Then head seaward to watch and swim with Bottlenose Dolphins in shallow water. Then on to visit and play face to face with a resident colony of rare Australian Sea Lions. Operates: From Port Lincoln on Monday, departure every Monday from Sept 1 to May 31.
Facilities found here
Carpark
Family Friendly
Non Smoking
Public Toilet
Outback to the sea Three Day Tour - 3OTS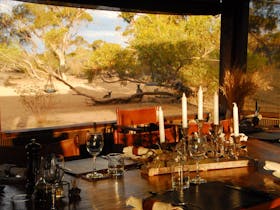 Experience the outback colours and animals at Kangaluna Glam camp. Travel to Baird Bay for an unforgettable wildlife experience. Watch Bottlenose Dolphins ride the bow wave of the boat, and join these magnificent mammals in shallow water. Across the Bay, to visit a resident colony of rare Australian Sea Lions and experience playing face to face with these agile and friendly mammals in protected shallow lagoons. Operates: From Port Lincoln, every Monday, excluding June and July.
Facilities found here
Carpark
Family Friendly
Public Toilet
Location
ADDRESS:
976 Bedford Road , Wudinna Eyre Peninsula South Australia Australia 5652